FileMaker 18 Database Hosting
All subscriptions begin with a 15 day free trial with the minimum options selected.  The hardware options can be changed at any time for a prorated amount.  During the free trial period the FileMaker Server 18 free trial license is applied so you can immediately upload and start sharing your databases.
Memory
4 GB – Included
8 GB – $25/mo
16 GB – $75/mo
32 GB – $175/mo
Disk Space
30 GB – Included
50 GB – $10/mo
75 GB – $20/mo
100 GB – $30/mo
150 GB – $50/mo
200 GB – $70/mo
300 GB – $110/mo
400 GB – $170/mo
500 GB – $210/mo
750 GB – $310/mo
1 TB – $410/mo
FileMaker Licensing
Bring My Own – Included
5 User Conns – $82/mo
10 User Conns – $154/mo
15 User Conns – $231/mo
20 User Conns – $308/mo
25 User Conns – $330/mo
30 User Conns – $396/mo
Free Setup
Free 15 Day Trial
Host up to 125 Databases
FileMaker Pro, Go and WebDirect Access
PHP Publishing Engine
ODBC / JDBC Access
Control Panel Management
Use of Valid SSL Certificate
Automatic Database Backups
Remote Backup to Email, FTP or DropBox
Hosting in Richmond, Los Angeles, Frankfurt, London, Sao Paulo, Sydney, Tokyo or Toronto
Encrypted Uploads, Downloads and Connections
FileMaker Server Admin Console Access
External Datasource (ODBC DSN) Setup
JSON Data API Access
Automated Service Level Monitoring
Start Hosting Your Databases… Now

With our FileMaker 18 Database Hosting we've placed the emphasis on your databases.  All of the server setup, installation and security configuration including the use of a valid SSL certificate is already done.  The moment you sign up for the free trial of our FileMaker 18 Hosting you will be able to start uploading and sharing your databases through our easy to use control panel management system.  Of course, if you need all of the options available under the FileMaker Server Admin Console that is available too.
Flexible FileMaker Server Licensing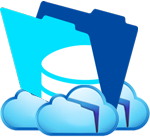 To get you going right away, FMPHost automatically applies the FileMaker Server 18 Free Trial license to every dedicated database hosting plan.  This license will provide unrestricted User Connections for your users to access your databases through FileMaker Pro 18 Advanced, WebDirect and FileMaker Go during your free trial period.  Then, you can choose whether to bring your own FileMaker license or order one through FMPHost you can pay on a monthly basis preserving your cash flow. All licensing provided by FMPHost is based on the FileMaker User Connections model which means no further licensing for FileMaker Pro 18 Advanced, FileMaker Go or WebDirect is required.
Best Security Practices Included

Your Dedicated Database Hosting server comes with the highest security options and practices built-in. From the network side all of our hosting facilities provide physical security by use of biometric locks and video surveillance monitored server cabinets.  We also employ firewall and Distributed Denial of Service protection on our Internet border routers. Each FileMaker Server has its own firewall settings and the most restrictive settings are automatically configured in the FileMaker Server Admin Console.  FMPHost also provides a valid wildcard SSL certificate that is preinstalled on your server so you can immediately start sharing your database securely.  Finally, we support FileMaker's Encryption at Rest (EAR) technology that keeps your data private even if the file itself was somehow accessed.
Automatic and Remote Database Backups

Your data is valuable. FMPHost understands this and goes the extra mile to protect it. Every night a live snapshot of your database is taken and archived off of your server and made available in your control panel for immediate download. You can also initiate your own backups at any time. As an additional measure of protection, FMPHost provides our Remote Backup feature which automatically pushes the backups to you every time one is created.  FMPHost supports emailing your backup as an attachment, transferring it to your FTP server or placing it into your Dropbox folder. Never worry about losing your data again.
Professional FileMaker Server Management

FileMaker Dedicated Database Hosting means that you focus on the database and we'll focus on everything else. Our U.S. based engineering and support staff have over 20 years of experience setting up FileMaker Server for optimal performance, security, redundancy and troubleshooting user issues.  We also keep your system patched with all software updates.  Our control panel software automatically detects issues with the FileMaker Server process, Web Publishing Engine and FileMaker Script Engine and restarts the services as necessary minimizing any service impact. Email notifications are also sent alerting you of approaching resource limits like available disk space. We provide support through online chat, email and 24/7 phone support to make sure your business stays up and running.
Targeted Backup Strategy and Server Focus

FileMaker Dedicated Database Hosting is designed for customers who want a managed, low cost alternative to traditional dedicated server hosting.  Unlike our FileMaker Server Hosting plan, our FileMaker Dedicated Database Hosting plan only backs up the databases and not the entire server.  In the unlikely event your server becomes unrecoverable, we will redeploy a new server instance and restore your backed up databases.  Because FMPHost manages these plans in bulk and cannot backup anything but the databases we do not provide access to the remote server desktop or allow the installation of any other software (aside from FileMaker plugins) or services.