FileMaker Shared Hosting
These plans group customers together on the same server which Claris Inc does not allow on current versions of FileMaker Server.  They are suitable for users of FileMaker Pro 7 through 16 who require legacy version support.  All others should choose FileMaker 2023 Database Hosting.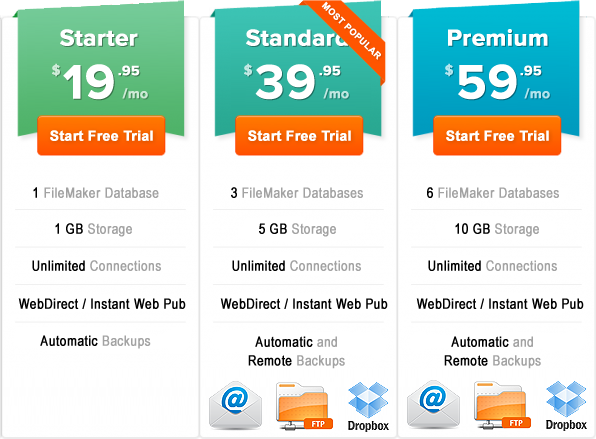 Free Setup
Free 15 Day Trial
WebDirect and Instant Web Publishing
XML / PHP Publishing Engine
ODBC / JDBC Access
7 Database Backups
Offsite Backups
Control Panel Management
Supports FileMaker Pro 7 through 16
Hosting in Frankfurt, Los Angeles, London, Richmond, Sao Paulo, Sydney and Toronto
Secure Uploads, Downloads and Connections
Solid State Drives for Ultimate Performance
Free FileMaker Server Script Scheduling
Free External Datasource (ODBC DSN) Setup
No FileMaker Server License Required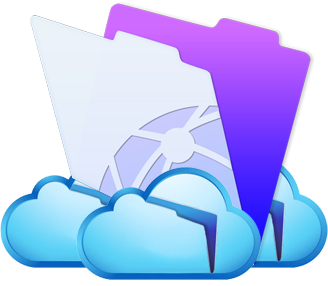 When you host with us, you share our license of whatever FileMaker Server version you need. There's no server software to purchase and we do not charge extra for WebDirect or FM Go Connections! Utilizing the power of FileMaker Server 14, we give you advanced capabilities for your business. Features like FileMaker WebDirect let you share your database easily and effortlessly with anyone using a web browser inside and outside of your organization. Get the most out of your FileMaker solution and investment by using FileMaker Server 14 at FMPHost. FileMaker Server 14, FileMaker Server 13, FileMaker Server 12 Advanced and FileMaker Server 11 Advanced are all available to support your FileMaker database.
Our Shared FileMaker Hosting Platform

Need to connect team members from multiple locations to your FileMaker solution? With Shared FileMaker Hosting from FMPHost, your FileMaker Hosting Pros, you can access your FileMaker solution from anywhere on the Internet and even publish your solution right to the web using WebDirect or Instant Web Publishing. Our Shared FileMaker Hosting Platform automatically selects the FileMaker Server with the least load for your database so you always get lightning fast access to your data.  You can also choose from our Shared FileMaker Hosting servers in the US, UK, Germany, Brazil, Canada and Australia.
FileMaker Go for iPhone and iPad

View, edit and search your FileMaker Pro records on your iPhone, iPod touch and iPad with the new FileMaker Go app and FileMaker Hosting services from FMPHost. Connect over the air via WiFi or the mobile data network for access to your data from anywhere. Best of all, FileMaker Go is a free download from the iTunes Store.
Automatic and Manual Backups Saved Offsite

Your data is valuable. FMPHost understands this and goes the extra mile to protect it. Every night a live snapshot of your database is taken and archived and made available in your control panel for immediate download. You can also create your own snapshots at any time. As an additional measure of protection, FMPHost also sends your backups to a second server facility to insure that your data survives natural disasters, fires and other unforeseeable issues.
Remote Backups Pushed to You

Never worry about losing your data again. With Remote Backup, included in the Standard and Premium plans, your backups are not just saved on our server, but they are also pushed directly to you every time a backup is made. Backups can be initiated at any time by you and are automatically triggered nightly by us. FMPHost supports emailing your backup as an attachment, transferring it to your FTP server or placing it into your Dropbox folder.