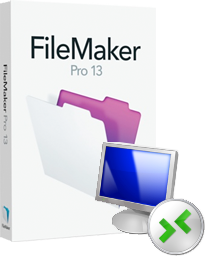 FMPHost is now making our FileMaker Pro RemoteApp service available for anyone to use with a 15 day free trial of the service!
Our FileMaker Pro RemoteApp technology greatly increases your productivity with your hosted FileMaker database over the Internet.  When you connect to your large and user interface intensive database over the Internet remotely with FileMaker Pro installed on your own computer things… can… go… slow…  That's because all of the business logic, such as coming up with the value of your calculated field or sorting long lists, takes place on your computer.  This means that every time you perform these kinds of operations all of the data required to fulfill the request must be transferred from the database server to your computer each and every time!  One simple calculated "balance" field on a customer record could mean hundreds of Invoice, Credit and Payment records get transferred over the Internet every time you view a layout with that field.  That slows things down.
With the FileMaker Pro RemoteApp service, you are running a full copy of FileMaker Pro in our facility.  All of the servers are on the same network with 10 GB ethernet connections between them.  Layouts that took 60 seconds to load before now take only 1.
Choose the version of FileMaker Pro that you need.  We offer FileMaker Pro 12 and 13.  Even though these copies of FileMaker Pro run in the cloud, they still have access to your local hard drives and printers.
Start your 15 day free trial of FileMaker Pro RemoteApp today and experience the difference!